Randomised trial of polytetrafluoroethylene patch insertion for recurrent great saphenous varicose veins Winterborn RJ, Earnshaw JJ.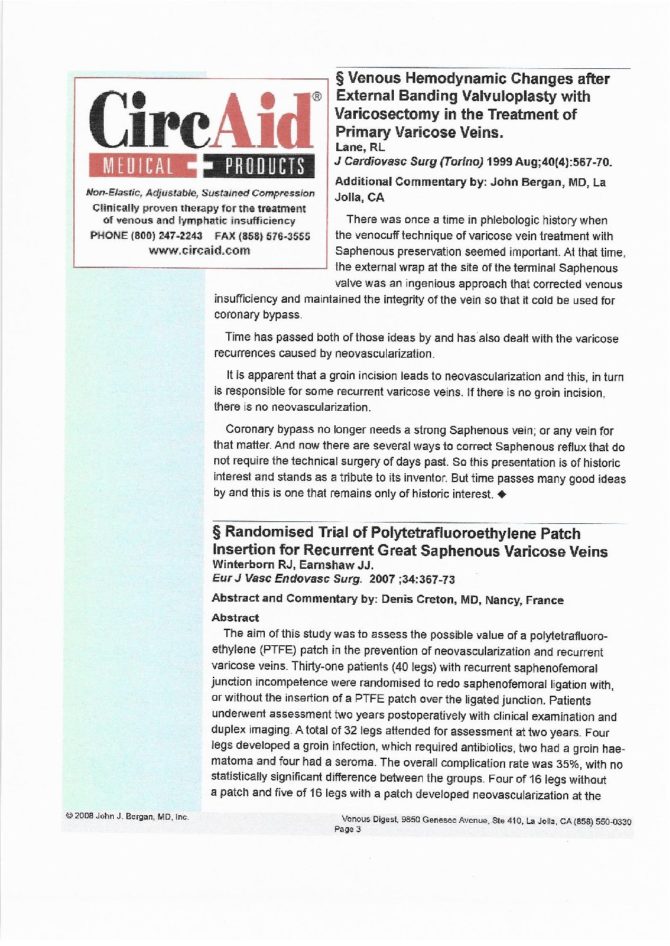 Randomised trial of polytetrafluoroethylene patch insertion for recurrent great saphenous varicose veins Winterborn RJ, Earnshaw JJ.
Abstract
The aim of this study was to assess the possible value of a polytetrafluoroethylene (PTFE) patch in the treatment of recurrent varicose veins. Thirty-one patients (40 legs) with recurrent saphenofemoral junction incompetence were randomised to redo saphenofemoral ligation with, or without the insertion of a PTFE patch over the ligated junction. Patients underwent assessment 2 years postoperatively with clinical examination and duplex imaging. A total of 32 legs attended for assessment at 2 years. Four legs developed a groin infection, which required antibiotics, 2 had a groin haematoma and four had a seroma. The overall complication rate was 35%, with no statistically significant difference between the groups. Four of 16 legs without a patch and five of 16 legs with a patch developed neovascularisation at the saphenofemoral junction on duplex imaging by two years postoperatively. In this study, insertion of a PTFE patch did not affect the rate of perioperative complications and it did not appear to contain neovascularisation.
Commentary
Although this study do not prove the patch insertion can contain the neovascularisation these results coming from a very good surgical team interested in the treatment of REVAS for a long time is of great interest. Paradoxically it can bring another conclusion I usually agree with.
I think the re-neovascularisation do not depend on the type of the patch either made of synthetic mesh, silicone or PTFE, being sutured over the religated junction or simply glued to the femoral vein, with a small or large size. The re-neovacularisation depend:
firstly on the possibility to remove all the superficial incompetent thigh veins at the time of surgery. In this study the author can not be sure all the incompetent thigh veins had been removed.
secondly on the intraoperative aggressiveness which induces large cicatrisation phenomenon
I was always surprise to give my personal results using a so very small patch (1/1.5 cm) (5% of re-neovascularisation at 5 year follow-up) [1] comparing with those of other good surgical team I know their comprehensive large experience in re-do surgery, (31% at 2 year follow-up). I am convinced that these good results were obtain because I carry out re-do surgery through a very small oblique lateral approach without non necessary dissection, without any exposure of the femoral vein. Consequently I have never had any numerous postoperative complications as haematomas, seromas or groin infections and probably it is the reason why the new development of vessels was low. It is demonstrated that revascularisation of haematomas may lead to neovascularisation [2].
Today I have still reduced the aggressiveness of re-do operation doing only a ligature of the stump with a non resorbable thread without a section through the same small lateral approach. Then I securely inject foam in the distal part of the ligated stump or by the way of a thigh vein. "Doing less in the groin to do better for the re-recurrence"
References
Creton D. Surgery for recurrent saphenofemoral incompetence using expanded polytetrafluoroethylene patch interposition in front of the femoral vein: long-term outcome in 119 extremities. Phlebology 2002 ;16 : 137-41
Munasinghe A et al. Strip-track revascularization after stripping of the great saphenous vein. Br J Surg 2007;94:840-3.
Date
2008
Auteurs
Venous Digest 2008 (feb);15 : 3-4 D. CRETON Denis Creton, MD, EC A Paré, rue A Paré, 54100 F, Nancy, France - Telephone: 33 3 83 95 54 00; fax: 33 3 83 95 54 23; e-mail:

[email protected]

.